News within the Faculty of Natural Sciences
Please note that this page will no long be updated after the restructuring of our faculty. All new news will feature in our
home page's
slider and placed on the previous page after expiry. 
---
MASTERS STUDENT'S RESEARCH PUBLISHED ONLINE
21/02/2017
Velesia Lesch (24), a masters student in Biological Sciences and the chairperson of the Academic Student Association Ad Vivendum (representing Biological Sciences and Geo- and Spatial Sciences) has had her research, entitled "First report of perfluoroalkyl substances in South African Odonata" published on Science Direct, an online journal for scientific research.
Lesch is a hardworking and ambitious student and the faculty is proud to have produced a student such as herself. Lesch will hand in her dissertation for examination to her masters degree by the end of 2017 and then plans to take on a PhD in Biological Sciences.
To read her published article, click here.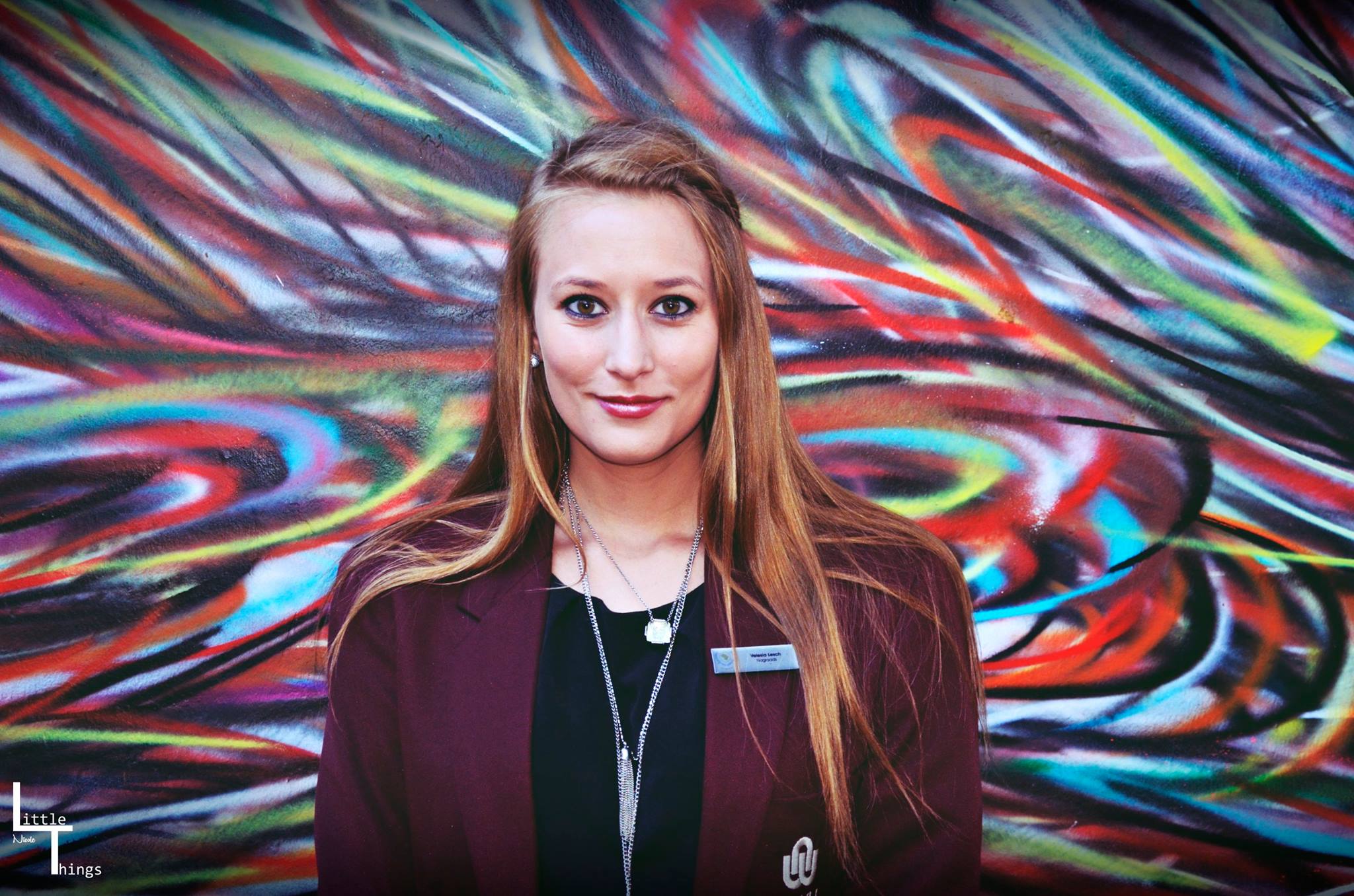 Velesia Lesch - published M-student and Chairperson of Ad Vivendum (2016/2017).
Photo credit: Little Things Photography (2016).
---
BSV RECEIVES VARIOUS AWARDS
20/02/2017
One of the three Academic Student Associations (ASA) which fall under the Faculty of Natural Sciences, BSV (representing Urban and Regional Planning) announced on their Facebook page this past weekend that they have received three awards since the committee term for 2016/2017 commenced. These awards are as follows:
An overall second place in the NWU-PUK's SJGD "Barefoot Week 2016" in collaboration with the Faculty of Economic and Management Science's ASA "Rekenmeesters";
An overall first place for 2017's First Year Breakfast as held on 23 January 2017 before First Year Registration; and
An overall third place for the NWU-PUK's Mini Open Day as held on 15 February 2017.
The Faculty of Natural Sciences congratulates and thanks these hardworking students under the leadership of their Chairperson, Ms. Zinea Huston.
For more information and updates from BSV, like them on Facebook.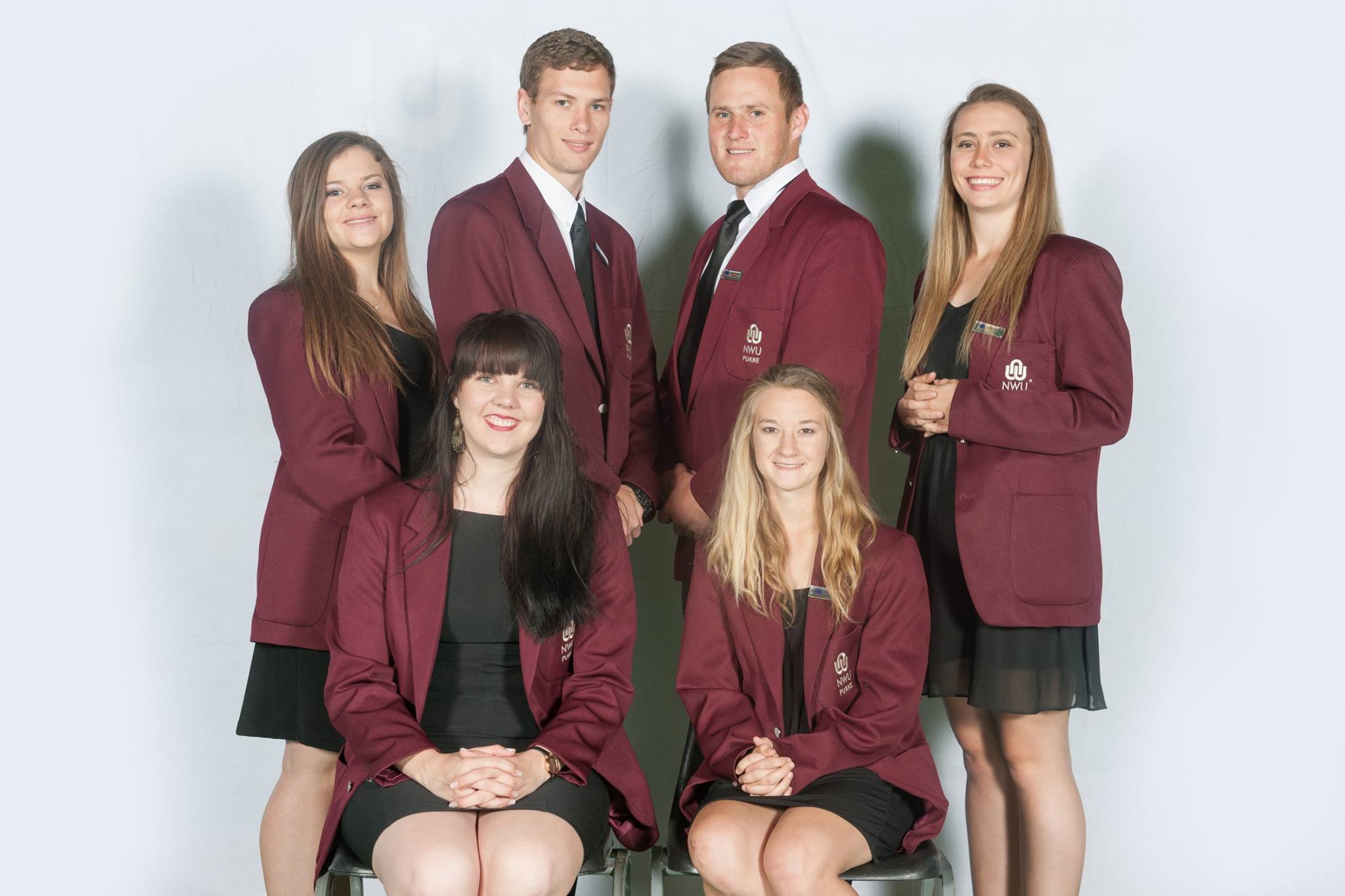 BSV Committee 2016/2017
Front: Zinea Huston, Helena Hatting.
ABack: Charné Erasmus, Hardus Malherbe, Danie van Wyk, Carli Meyer.
Absent: Soné van der Merwe, Nikita Greyling.
---
MINI OPEN DAY A SUCCESS FOR THE FACULTY OF NATURAL SCIENCES
20/02/2017
The NWU hosted its annual Mini Open Day (for local grade-12 learners) on 15 February 2017. Learners arrived on the Potchefstroom Campus early on Wednesday morning and where taken to Lover's Lane by the SR:BOB where they were able to meet with the various Academic Student Associations to discuss what they could possibly study at the NWU, what the prerequisites for each of our programmes are, what they can expect during their studies and what careers they will be able to follow on completion of their studies.
Each year, the various ASA's are asked by the SR to decorate their stalls according to a theme which is then judged and a first, second and third place is awarded. Our three ASA's put a lot of effort and thought into the decoration of their stalls using the fields of study which they represent creatively to come up with themes that surprised prospective students.
Ad Vivendum's (the ASA for Biological Sciences and Geo- and Spatial Sciences) theme was "Zombie Apocalypse" (they were the safety shelter). They used a variety of laboratory instruments such as a microscope and test tubes as well as hand-made decorations ranging from zombie hands coming up out of the ground to a "blood-spattered" sheet showing the location of the safety shelter. They also handed out highlighters in the form of injections as "freebies" with the idea being that these where the vaccines for the "Zombie Virus".
Scientiae (representing Physical and Chemical Sciences, Computer, Statistical and Mathematical Sciences and Business Mathematics and Informatics) went with "Newton's Law on Gravitation" as their theme. Their stall was decorated accordingly by hanging apples and leaves on the side of their gazebo and placing trees woven out of wire on their table. Hand-drawn pictures on canvas of Einstein also featured. As gifts, Scientiae handed out various chocolates and the Dean's Office provided them with Faculty branded pens as "freebies".
BSV (representing Urban and Regional Planning) themed their stall "A bird's eye view" which was decorated with hand-folded paper birds hanging from the sides of the stall and chalked drawings of their theme and the NWU's logo were prominently displayed. They also provided prospective students with pop-up brochures and gifts in the form of a collection of sweets placed inside a small glass jar. This group of students worked very hard and it paid off with them winning the all-round third place for the Mini Open Day. The Faculty of Natural Sciences is proud of BSV on this achievement!
After prospective students visited Lover's Lane, the various faculties on the NWU-PUK presented information sessions regarding the programmes that they offer. Prospective students were asked to choose to attend one faculty's information session and the Faculty of Natural Sciences welcomed somewhat 130 learners into our session.
To review the information presented to prospective students on the Mini Open Day, please click on the following links:
To view more photos from the day, please see our Facebook Album: Mini Open Day 2017.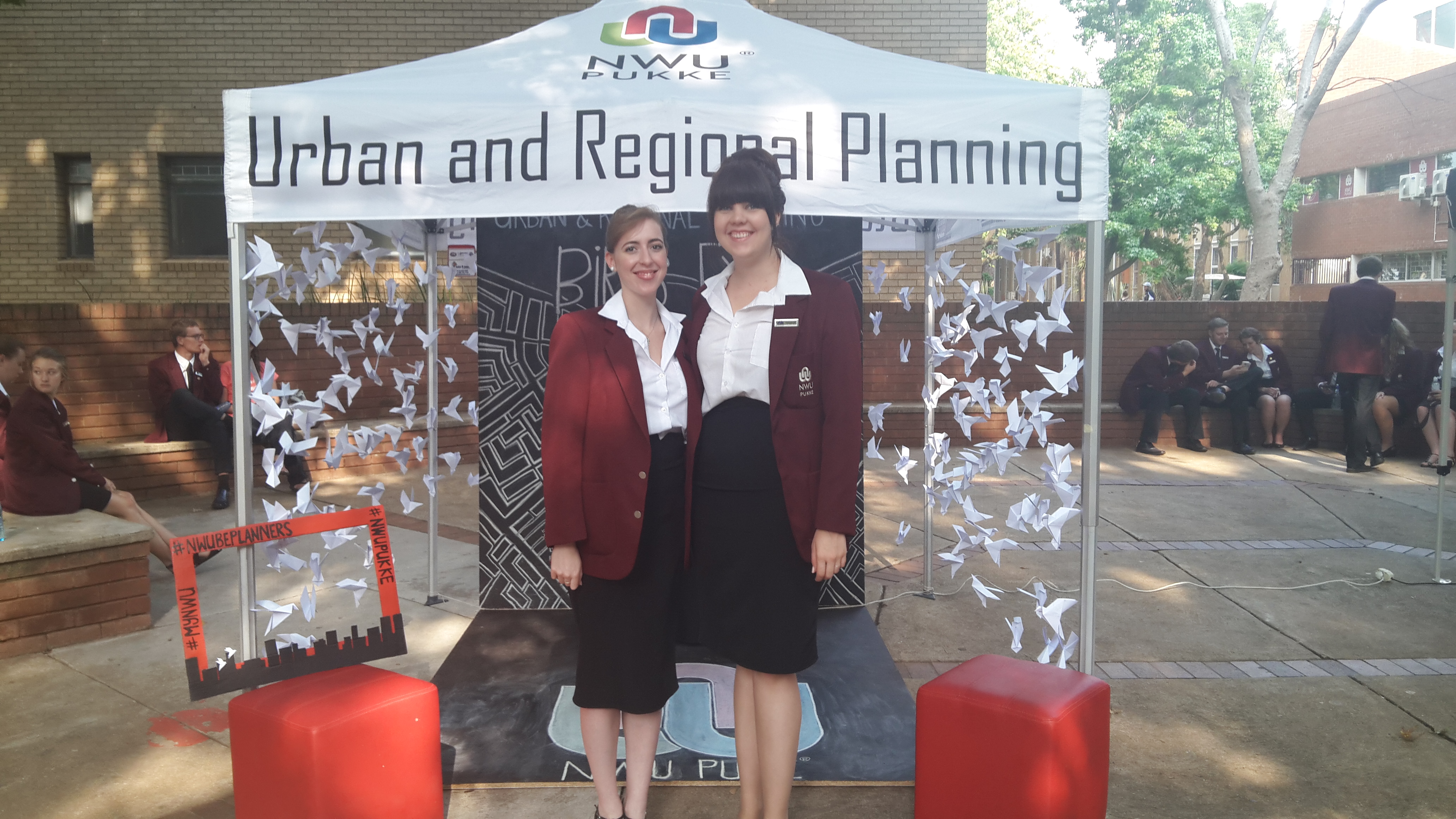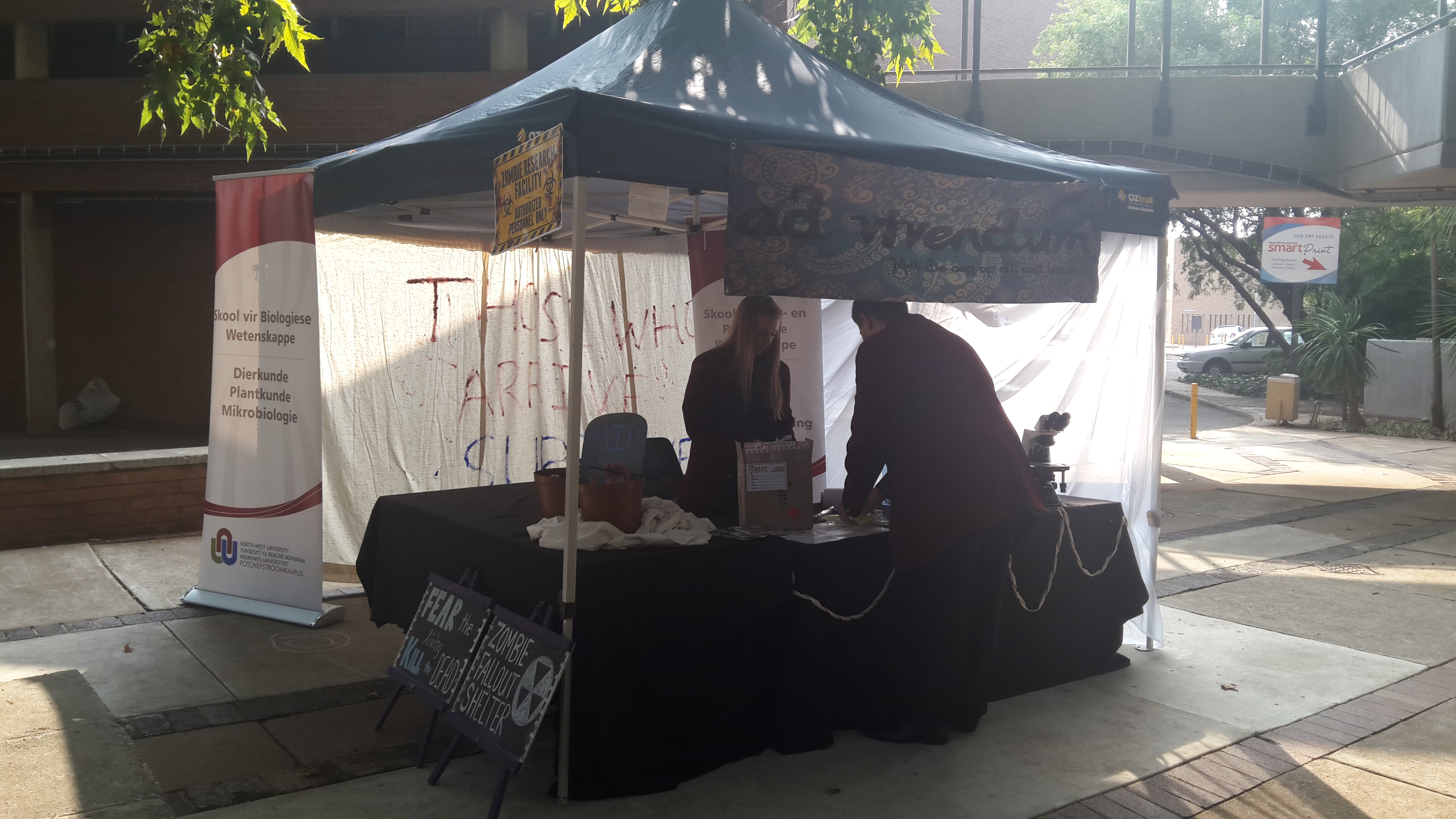 Urban and Regional Planning's stall.                                     Ad Vivendum's stall.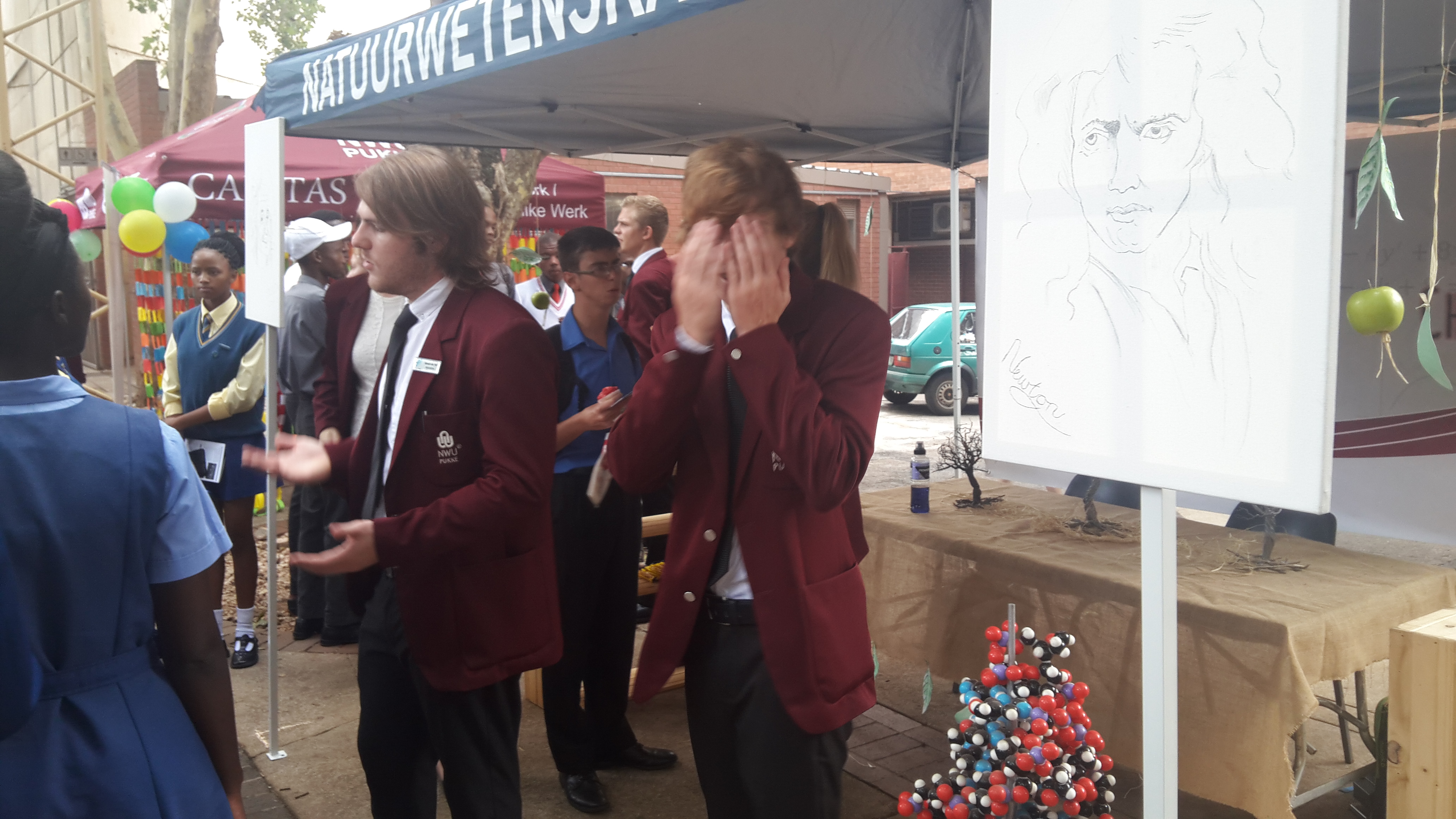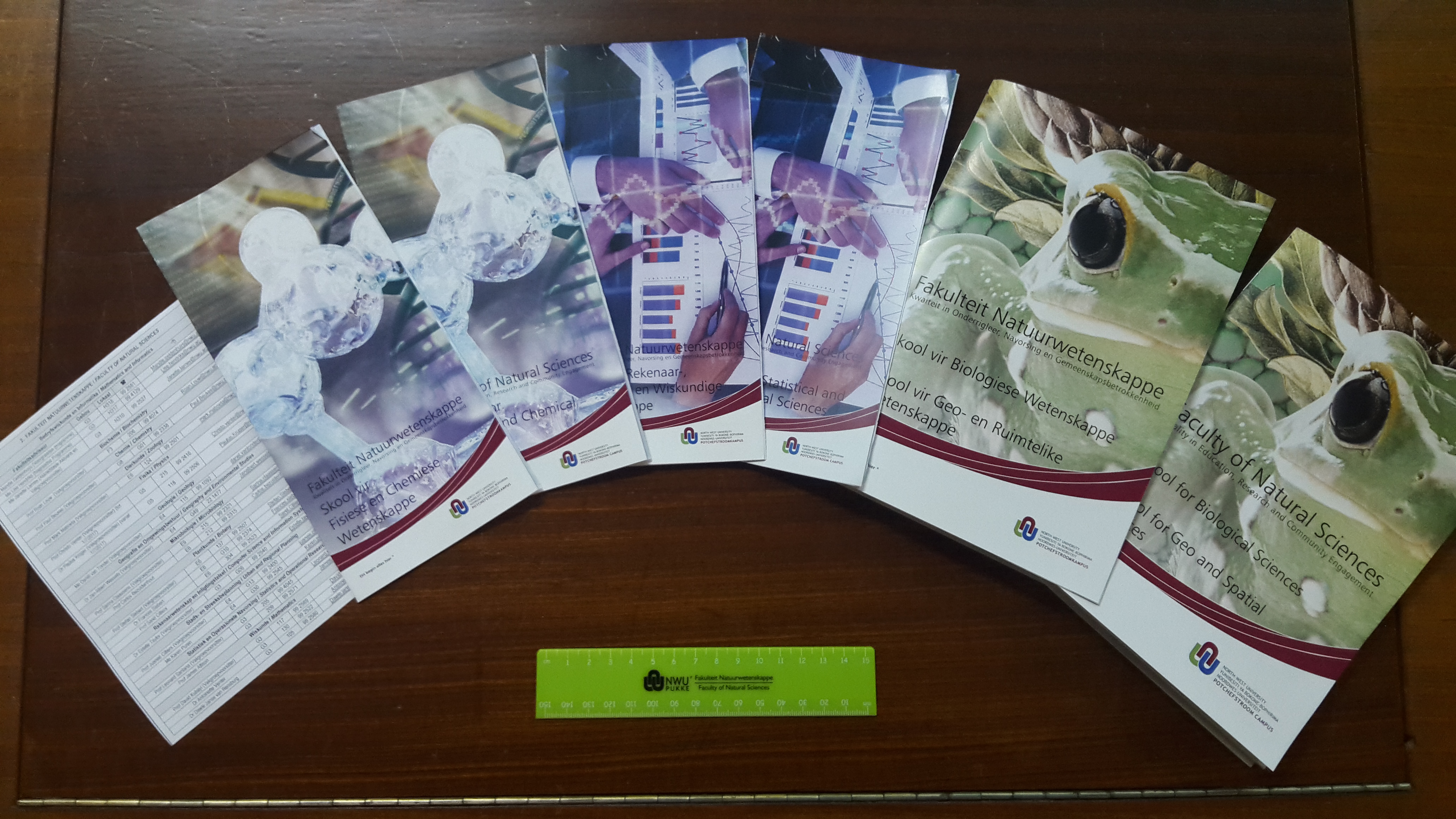 Scientiae's stall.                                                                             Brochures and gifts handed out during the Information Session.  
---
UNIT FOR ENVIRONMENTAL SCIENCES WELCOMES 2017's M-STUDENTS
17/02/2017
The Unit for Environmental Sciences and Management had their first contact sessions for the 3 M-programmes in Environmental Management from 30 January to 10 February. Students from across South Africa attended these sessions.
We wish our students a warm welcome and good luck with your studies! We are excited for the year!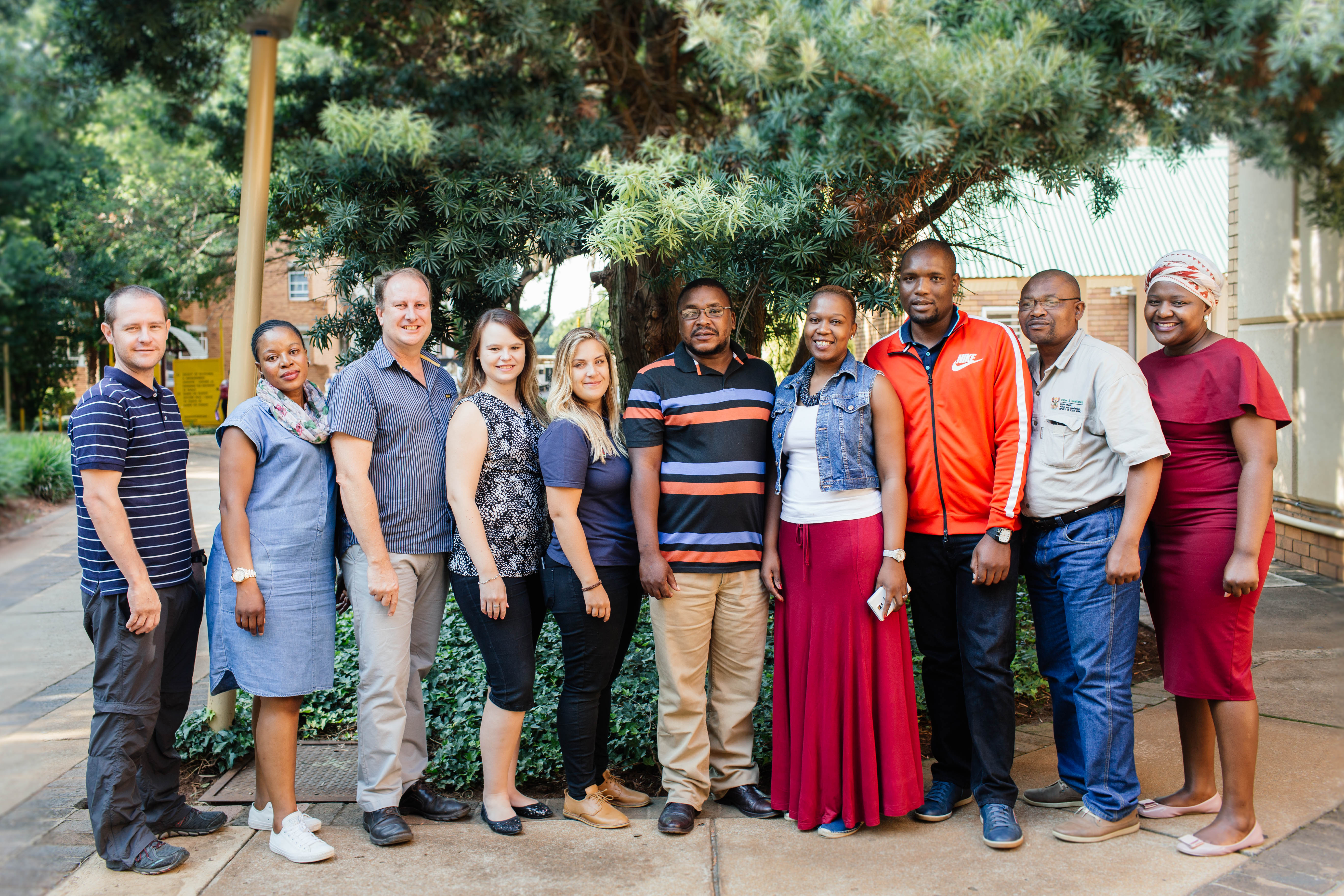 ---
TAKE GERMAN AND BROADEN YOUR SKILLS ON YOUR CV
18/01/2017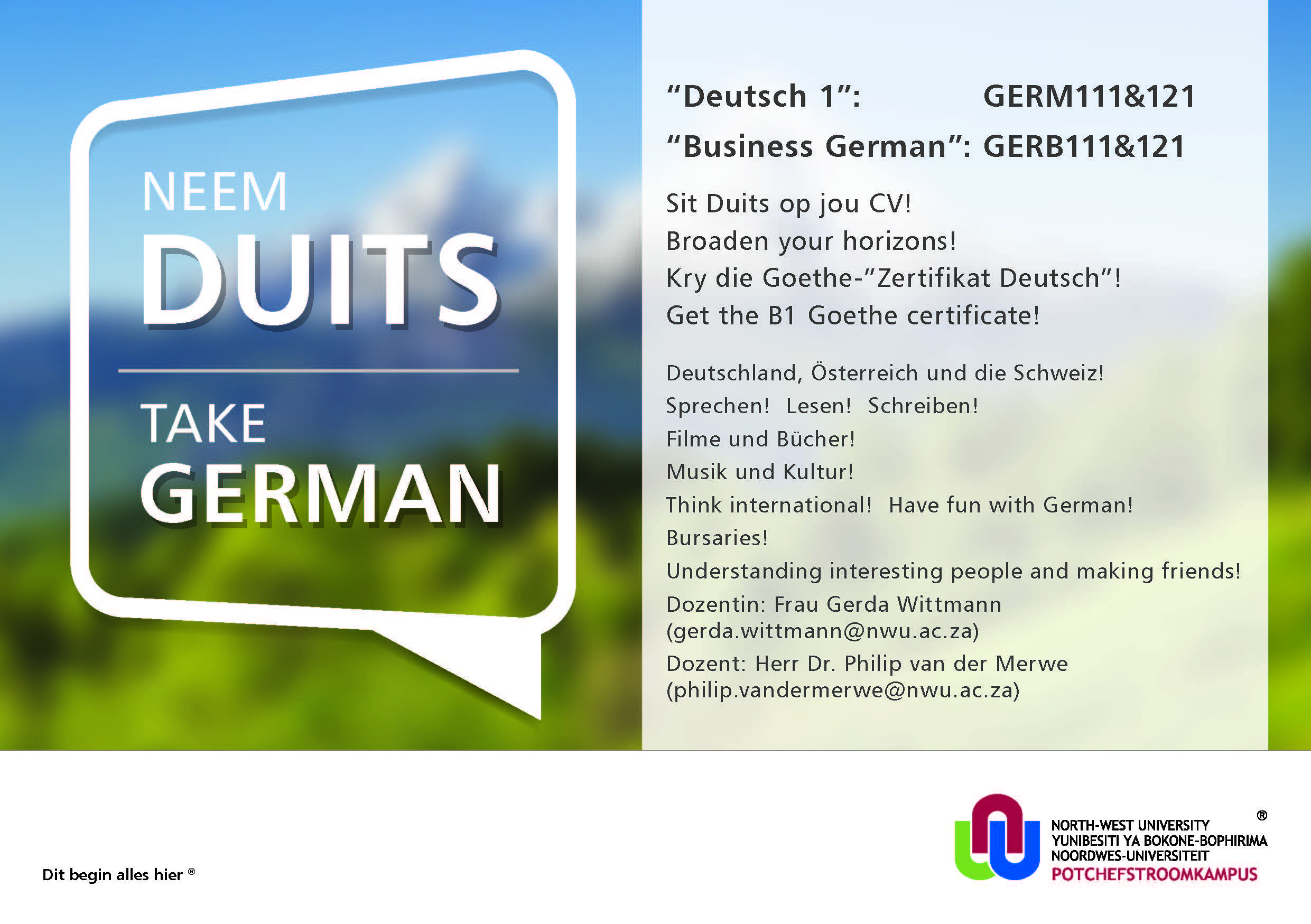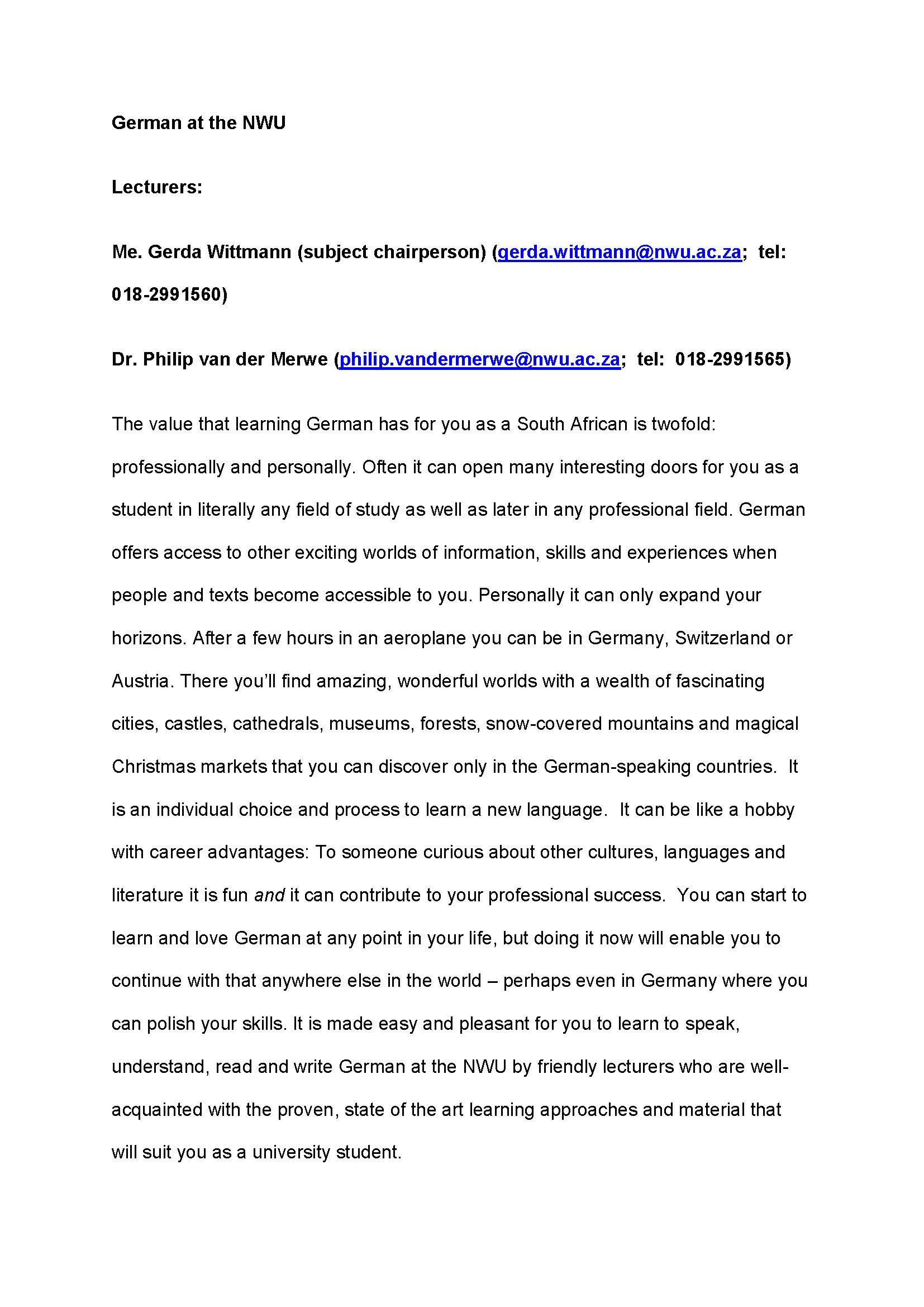 ---
RESEARCH AWARDS
02/11/2016
It is with great pride that we announce our staff and students who received various awards for their excellence in research, innovation, community involvement and creativity during 2015 at a gala event hosted on 28 October 2016 in Potchefstroom. The awards within the Faculty of Natural Sciences are as follows:
For National Research Foundation Ratings:
Award: Newly Rated National Research Foundation B-Ratings:
- Prof Kobus Pienaar (Dean of the Faculty)
Award: Newly Rated National Research Foundation C-Ratings:
- Prof James Allison 
- Dr Ernst Drewes
- Prof Hennie Kruger
- Dr Ilani Loubser
- Prof Rialet Pieters
- Prof Francois Retief
- Prof Stefan Siebert
- Prof Manie Vosloo
- Prof Che Weldon
For Innovation in Research:
Award: Commercialisation transaction of the year:
- Dr Francois Taute
Award: Most promising new declaration :
- Dr Francois Taute
Award: Top Inventor and Top Technology Innovator:
- Dr Paulus Kruger and Mr Barend Visser
Award: Researcher with the most new declarations:
- Dr Cobus Kriek
Award: Research unit with the most new declarations:
- Chemical Resource Beatification (represented by the director, Prof Manie Vosloo)
Student Medals:
Award: Vice-chancellor's Medal for the best master's students in their respective disciplines:
- Ms Hayley van Dyk
Supervisor: Prof Francois van der Westhuizen
Award: S2A3 Bronze Medal (awarded to the best master's student in a scientific discipline):
- Ms Carla Nortje 
Supervisors: Mr Lardus Erasmus and Dr Rencia van der Sluis
---
JAPAN SCIENCE SCHOLARSHIP
18/10/2016
The School of Science at the University of Tokyo is offering our students 3 all-English Scholarships to undergraduate students who would like to study science in Japan (UTRIP, GSC, and GSGC).
1)  The University of Tokyo Research Internship Program (UTRIP)
UTRIP is a 6-week summer internship program for students majoring in natural science and other relevant fields. It provides students with an opportunity to gain the experience of "real graduate-school life" or "research-centered life." UTRIP is a gateway to pursuing an advanced degree and experiencing academic life at our university. Participants on UTRIP will also be granted financial support to cover their costs and expenses. They will also get the opportunity to take part in cultural activities and excursions to learn more about Japan.
Website: http://www.s.u-tokyo.ac.jp/en/utrip/
Flyer: http://www.s.u-tokyo.ac.jp/en/utrip/promo/pdf/UTRIP_flyer.pdf
2)  The Global Science Course (GSC)
GSC is an undergraduate transfer program that was designed to enhance cross-cultural interactions among young minds and foster the next generation of leaders in science. Students study alongside current UTokyo students in an all-English and research-focused academic environment, which includes rotations in world-renowned laboratories. Successful applicants to this program are also provided a monthly scholarship as well as fully supported accommodation. This is an invaluable opportunity for those looking to expand their worldviews and experience something unique during their time as an undergraduate student specializing in the sciences. The application period is open from January 10, 2017 to April 7, 2017 (JST) for Fall 2017 enrollment.
Website: http://www.s.u-tokyo.ac.jp/GSC/
Pamphlet: http://www.s.u-tokyo.ac.jp/GSC/about/files/GSC_Pamphlet_2016.pdf
Poster: http://www.s.u-tokyo.ac.jp/GSC/about/files/GSC_Poster_2016.pdf
3)  Global Science Graduate Course (GSGC)
GSGC is an international graduate program that was recently launched by Graduate School of Science at the University of Tokyo and allows students to obtain their degrees in English. This program welcomes excellent graduates from universities all over the world, fostering world-class science professionals, and standardizes a five-year integrated education scheme in which students attend both the Master's program and the Doctoral program in sequence. Students on GSGC are also provided with a monthly scholarship during their time on the program and support in finding employment following graduation. The application period is open from November 10, 2016 to January 10, 2017 (JST) for September 2017 enrollment.
Website: http://www.s.u-tokyo.ac.jp/GSGC/
---
NWU LECTURER RECEIVES ORSSA AWARD
22/09/2016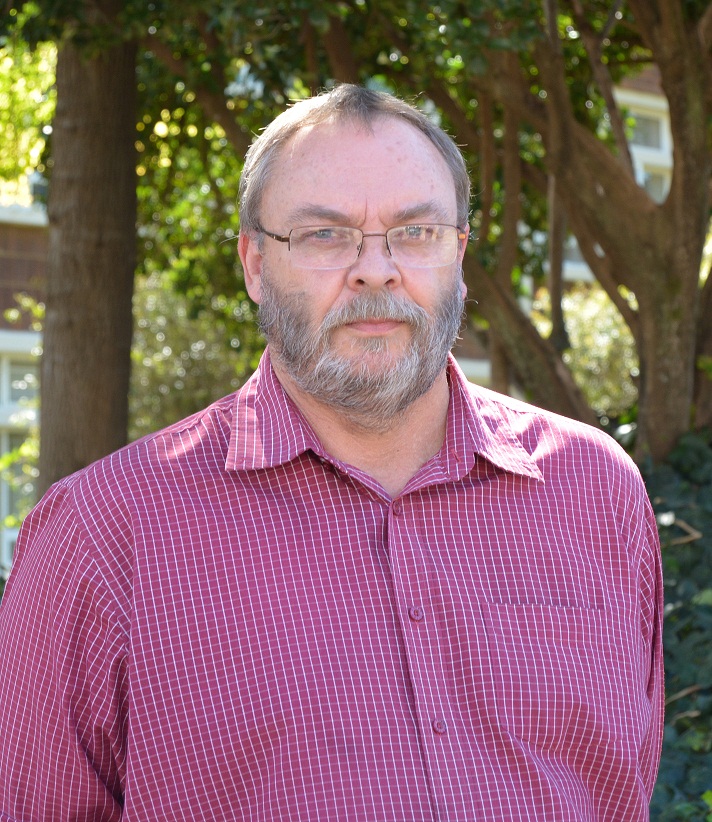 Prof Hennie Kruger
Prof Hennie Kruger, a senior lecturer in Computer Systems and Information technology at the North-West University's Potchefstroom Campus, has been named as a  'Fellow of the Operations Research Society of SA' (ORSSA). Receiving such an astounding award is truly a great accomplishment as Prof Kruger is only the 12th person to receive this award in the existence of  the ORSSA. The candidate previous to Prof Kruger was announced in 2009. 
"The Executive Committee may invite long-standing full members of the Society to become Fellows of the Society. Individuals considered for this high distinction have typically served the Society in an exemplary manner for a considerable period of time, or they have served the science and profession of Operations Research over a considerable period of time"  says the ORSSA. 
---
AFOLU BASELINE FOR EMISSIONS PROJECT RECIEVES GOLD 
08/09/2016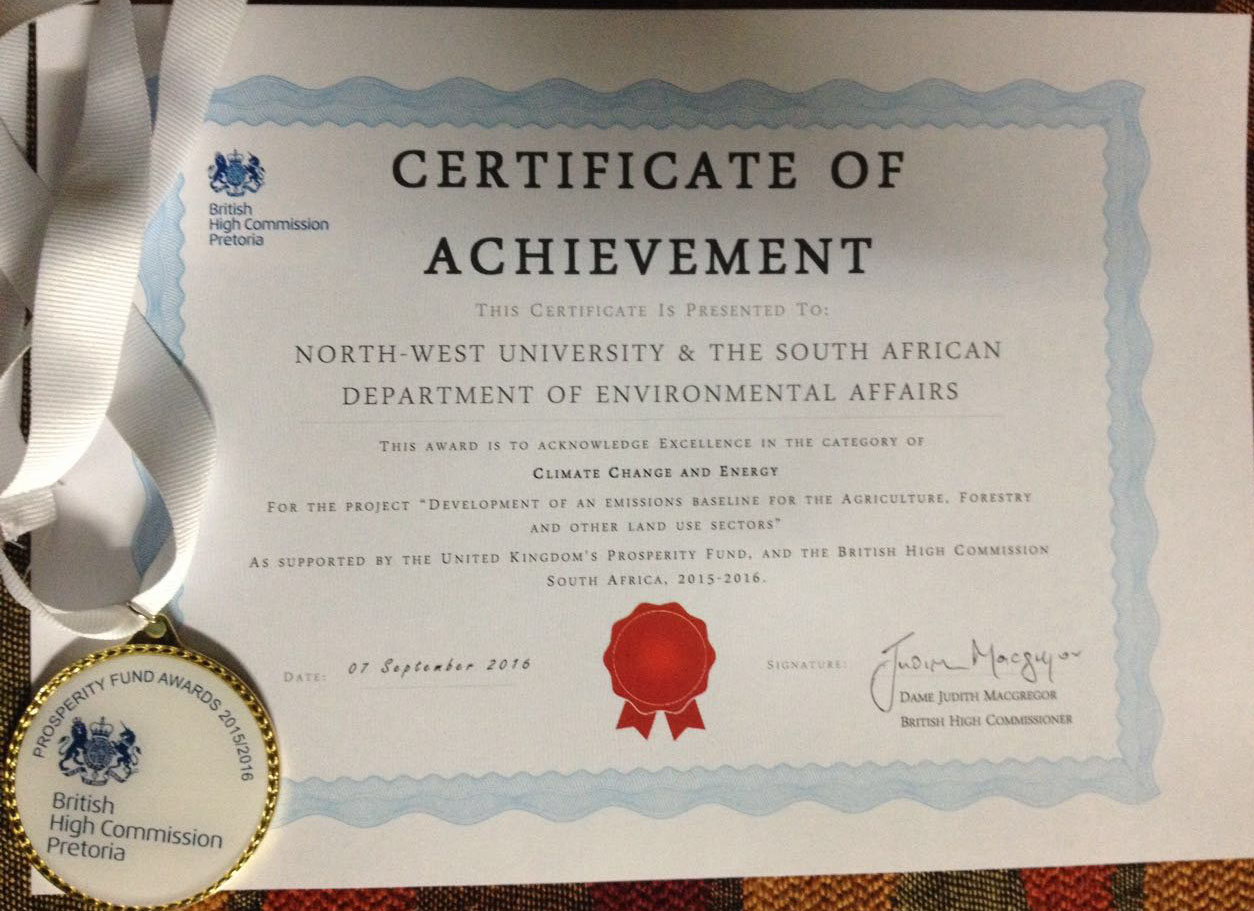 A group of academics from the North-West University's Faculty of Natural Sciences was awarded a gold medal by the British Higher Commission in the category "Climate Change and Energy" for a report named: "AFOLU Baseline for Emissions". The contributing authors are recognised as: Luanne Stevens, Jared Lodder, Roelof Burger, Stuart Piketh, GONDWANA ENVIRONMENTAL SOLUTIONS, Martin van Nierop, Anja van Basten, Aidan Henri and Elani van Staden. 
To download and/or the report AFOLU Baseline for Emissions, please click here. 
---
NWU PERFORMS AT PRASA 2016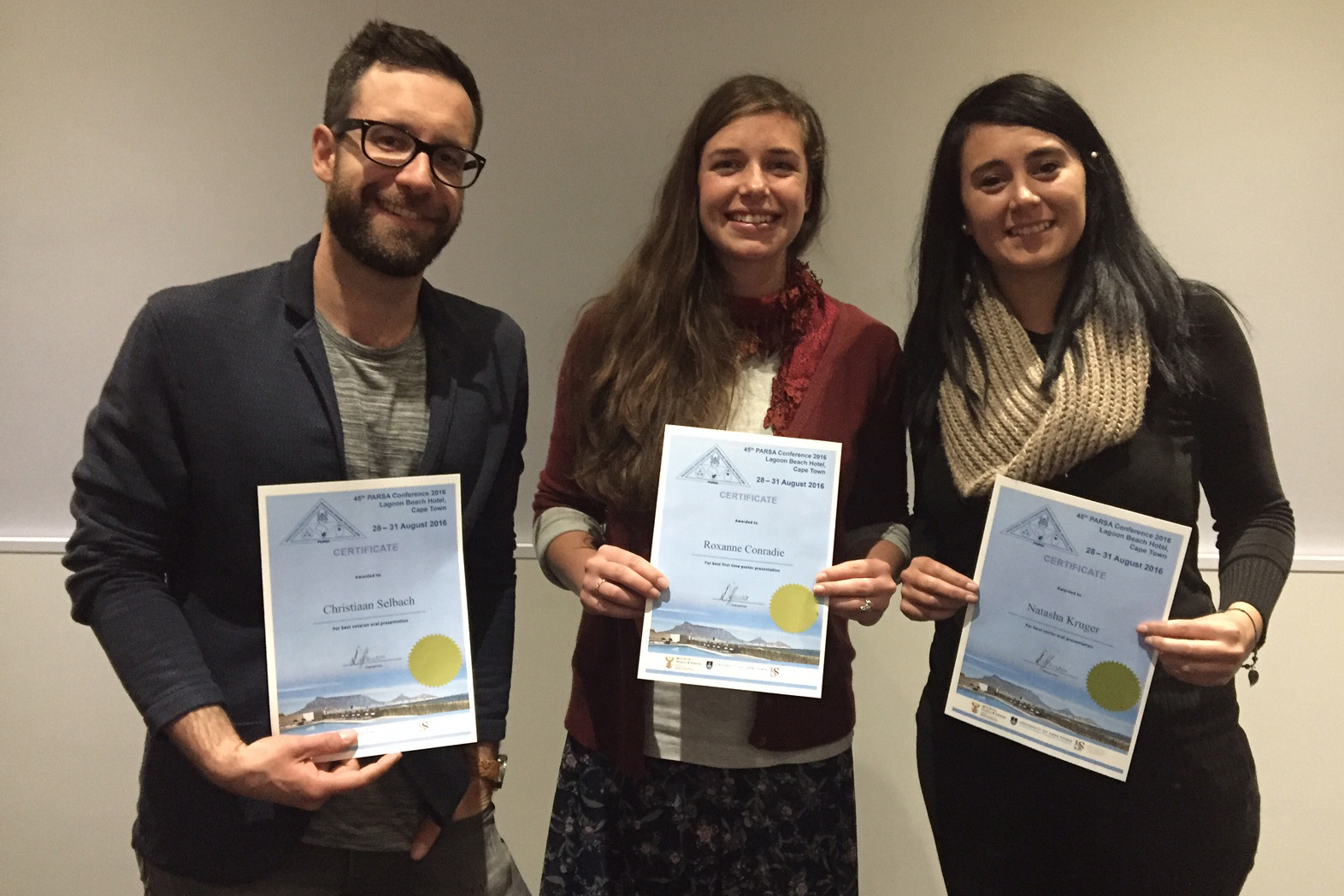 Christian Selbach           Roxanne Conradie            Natasha Kruger
The annual symposium of the Parasitological Association of Southern Africa (PARSA) symposium took place 28-31 Aug in Cape Town. The symposium was attended by 101 delegates. From North-West University a group of 14 including two lecturers, five post-docs, two doctoral students and five masters students attended. Our students did very well and took three of the five prizes namely: Best First Time Poster - Roxanne Conradie; Best Senior Oral presentation – Natasha Kruger; and Best Veteran Oral Presenter – Chris Selbach. The topics of their presentations were:
Roxanne Conradie. Ultrastructural comparison of Hepatozoon ixoxo and Hepatozoon theileri (Adeleorina: Hepatozoidae), parasitising South African amphibians
Natasha Kruger. Parasite introduction to the endangered Western Leopard Toad: Spill over or spill back?
Christian Selbach. Tarebia granifera: A successful invader free of parasite burdens and its implications for trematode transmission in the Lower Phongolo River and floodplain. 
---
NSTF AWARDS
04/07/2016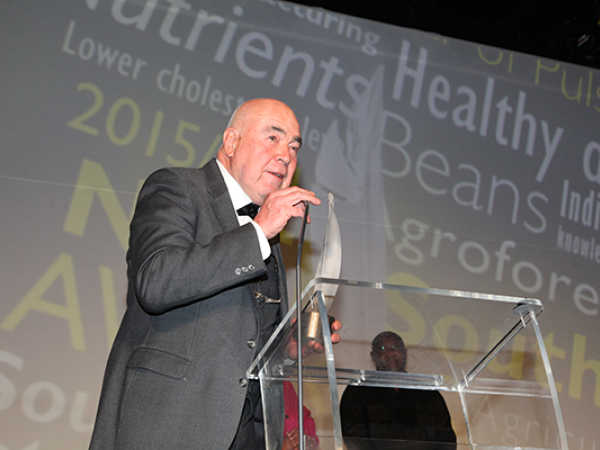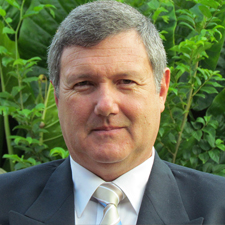 Prof Jan Smit                                                           Prof Kobus van der Walt
The Faculty of Natural Sciences is proud to announce that we had two finalists for the NSTF awards that took place on Thursday night – Prof Kobus van der Walt (Dean's Office) and Prof Jan Smit (Science Centre). It is wonderful that we had two finalists but even better that Prof Jan Smit took first place!
---