NWU scientists accurately predicts the future distribution of devastating Fall army worm in the World. 
The Fall armyworm recently invaded Africa, devastating grain crops and thereby threatens food security. Entomologists of the NWU Unit for Environmental Sciences and Management's Integrated Pest Management (IPM) Research Group developed a temperature-based development model that accurately predicted the global spread and establishment of this pest. This model provides early warning of high-risk areas of establishment of the pest. The model, published during June 2018 in the CSIRO journal Pest Geography, predicted the Indian sub-continent was suitable for establishment of this pest and in August 2018 the invasion was reported. According to the model, certain regions of Europe and Australia are also at risk. 
Du Plessis, H., Van den Berg, J., Ota, N. & Kriticos, D.J. (2018) Spodoptera frugiperda. CSIRO-InSTePP Pest Geography.
Click here for the original article. 
---
NWU's marine research has international impact
Researchers at the Unit for Environmental Science and Management (UESM) in the North-West University's (NWU's) Faculty of Natural and Agricultural Sciences, are making their impact felt within the field of marine research.
This is evident from the acclaim Dr Roksana Majewska, a postdoctoral fellow from the UESM receives as a contributor to the online research hub, Science Trends. The hub provides a platform for scientists to share their research directly with a large and global audience.
Sea turtle-associated diatoms: undiscovered disappearing micro worlds
Today, many scientists believe we are living through one of the greatest mass extinctions the world has ever seen. One may argue that existing species must inexorably fade away, and new life forms emerge to fill the rapidly changing ecological niches, inevitable with the process of evolution. One may even suspect that these very occasional large-scale die-offs are a natural part of the earth's life cycle.
In these troubled times, when global biodiversity is widely believed to be reduced by up to several hundreds of species each day, only the sudden and rapid disappearance of species of so-called "charismatic mega fauna" makes the average person feel compelled to sign petitions and passionately support wildlife habitat conservation projects.
That is perhaps quite fortunate for sea turtles – ancient marine creatures iconic to both marine biologists and indigenous peoples to whom they traditionally constitute not only a biological memory of earlier evolutionary eras but also a source of food and important element of cultural heritage. Yet, as has recently been shown, sea turtles themselves constitute a highly unique habitat for largely unknown micro species whose fate is inevitably entwined with that of their hosts.
Diatoms, unicellular microalgae that are thought to be responsible for up to 50% of both oceanic primary production and global oxygen production, are often some of the earliest colonizers on any marine substrate, and it has recently been shown that all seven living species of sea turtle harbour, often very abundant, epizoic diatom communities, some of whose species are as yet only known from the sea turtles. Although diatoms have long been known to grow on aquatic vertebrates, including whales, dolphins, and seabirds, sea turtle-associated diatoms have been almost entirely overlooked.
Only in the last three years have the first studies exploring sea turtle-associated diatoms been published, and several new diatom taxa, including three new genera, have been described. These new taxa show traits of obligate epibionts, which means they may require a direct contact with their basibionts (i.e. the host organism) to develop and survive. If so, we may be dealing with the very first case of endangered marine microbes – quite contrary to the popular hypothesis that, due to their microscopic size, particularly efficient dispersal modes, and high growth rates and adaptation capabilities, in the microbial world "everything is everywhere, and the environment selects". Since their first discovery, sea turtle diatoms have attracted growing attention, partly due to their potential use as indicators of sea turtle behaviour (e.g. migration patterns) and health.
Although research here may help to bridge various gaps in general understanding of both sea turtle and diatom ecology, evolution, and biogeography, at present many aspects of the symbiosis-like relationship between these micro- and macro-organisms remain unaddressed. For instance, it is not yet understood whether epizoic diatom communities are specific to particular sea turtle host species or, rather, geographic location; or whether they are subjected and respond to seasonality, what factors influence their composition and abundance, and what ecological role and function they have in marine ecosystems.
Currently, despite extensive conservation efforts, all seven existing sea turtle species are endangered, with two species being critically endangered, according to most of the international, national, or regional assessments, and are protected by various legislations. We now know that these remarkable animals constitute mobile islands and hotspots for unique microbial life that could soon be lost before ever being discovered and explored. Thus, the on-going and large-scale research conducted in collaboration among scientists from four different continents aim to provide baseline data about sea turtle-associated diatoms and other microscopic epibionts, generating important advances in both epizoic microbe and sea turtle research.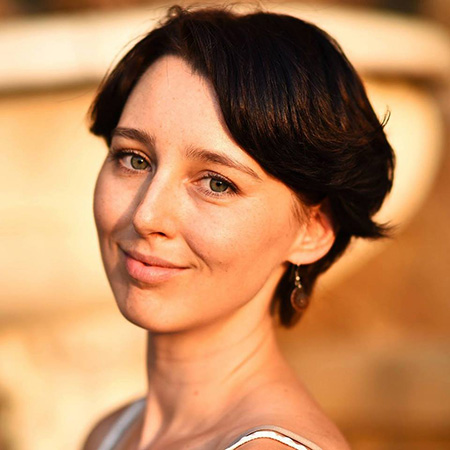 Dr Roksana Majewska.
---
Faculty of Natural and Agricultural Sciences committed to community engagement
Staying true to its mission statement, the Faculty of Natural and Agricultural Sciences at the North-West University (NWU) is committed to being socially relevant. This is evident from the faculty's involvement in several community projects across the country.
Empowerment of disaster risk reduction
An innovative partnership between the NWU's Centre for Disaster Studies, the South African Local Government Association (SALGA) and the National Disaster Management Centre (NDMC) will see to it that disaster risk management officials in South Africa will be up-skilled and empowered to face the realities of the profession.
This multi-year project attempts to bring disaster risk reduction knowledge from within the university arena to the local government sphere with a view to improving disaster risk reduction service delivery for local communities.
Dithakwaneng initiative
Another community engagement initiative is underway in Dithakwaneng in the North West province. The project, which also represents a collaboration between the North West Department of Agriculture and Rural Development and Dr Jacques Berner of the faculty's Botany subject group. The project aims to teach the Dithakwaneng community how to produce grain amaranth and to assist them to subsequently sell the grain to manufacturers.
Grain amaranth is a high value, climate change resilient superfood.
On-farm trials at subsistence farming communities
Researchers from the Integrated Pest Management (IPM) subprogramme initiated and leads on-farm trials at subsistence farming communities near Taung in the Northern Cape and Vryburg in the North West province. These trials take place in collaboration with the North West Department of Agriculture, and aim to investigate the effect of Brassicaceae on insects and nematodes, and soil quality.
Workshop on Water Networks
The members of the Aquatic Ecosystem Health subprogramme recently presented a successful stakeholder workshop on water networks in Potchefstroom. The workshop saw representatives from local municipalities, the Water Research Commission and the National Research Foundation taking part. Topics covered included network opportunities, water and sanitation as well as the impact of pollution and challenges in spatial planning of new and existing town/urban areas.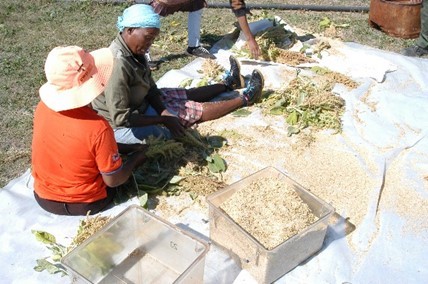 Women of the Naledi Womans Co-op harvesting grain Amaranth
---
NWU home to largest Zebra fish bioassay facility in Africa
The Water research group in the Unit for Environmental Sciences and Management (UESM) at the North-West University (NWU) installed the National Aquatic Bioassay Facility (NABF) in September 2017. Not only is the 515m2   facility the largest Zebra fish bioassay facility in Africa, but it is also the second largest in the southern hemisphere.
The facility is currently equipped with four Zebra fish multi-linking housing systems, one quarantine standalone system, four toxicity rack systems, a behaviour room (Noldus®) and two amphibian housing systems – each housed in individual temperature controlled rooms. A marine room is to be fully installed by the end of 2018. The NABF furthermore houses live feed units containing rotifers and artemia, algae cultures, agar plates housing Caenorhabditis elegans (nematodes), Daphnia magna cultures, Danio rerio (Zebra fish) and Xenopus (Müller's platanna and African frog).
By integrating Noldus® and Loligo® Systems technology within the facility organisms can be quantitatively studied from the embryo (DanioScope™), larval (DanioVision™) and adult developmental stages.
Since the development of the NABF, researchers from all over the world and South Africa have come together in the form of collaborations and training initiatives. The Zebra fish Interest Group of South Africa also hosted their inaugural meeting within the NABF, and during the event researchers from several different institutions and research backgrounds had the opportunity to present their findings as well as exchange knowledge, experiences and ask questions relating to Zebra fish. The accredited short course on Ectotherm vertebrate handling and ethics also takes place within the NABF at the NWU four times per year.
* Funding for the NABF was obtained by Prof Victor Wepener from the National Research Foundation National Nanotechnology Equipment Programme.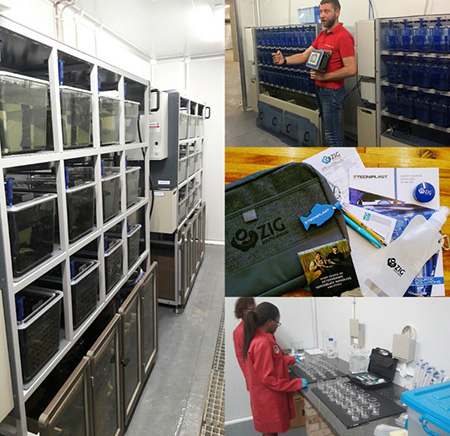 The National Aquatic Bioassay Facility (NABF) was established in September 2017.
---
NWU UESM leads 24 national and international research projects
Currently, researchers in the Unit for Environmental Sciences and Management (UESM) in the North-West University's (NWU's) Faculty of Natural and Agricultural Sciences are leading 24 national and international research projects.
These projects are funded by several government funding agencies as well as the private sector and is valued in excess of R45 million. Funders include the National Research Foundation (NRF), the Water Research Commission (WRC), the National Health Laboratory Services, the Department of Environmental Affairs (DAFF), Eskom, Sasol, SA Sugarcane Research Institute, the Maize Trust, Flemish Interuniversity Council (VLIR), Belgium and the World Bank Group. 
Funded projects range from research on air, water and soil quality to developing tools for the sustainable utilization of ecological resources in South Africa.
As the unit recognises the importance of socio-ecological systems and resilience, emphasis are also placed on projects pertaining to disaster risk reduction practices and capacity building support to the Southern African Development Community (SADC). The latter is being funded by the World Bank Group.
Other flagship projects include:
The development of the Bush Expert program to assess and evaluate bush control and rehabilitation practises to improve ecosystem services (funded by DAFF).
 A baseline assessment of air quality and air quality drivers in Sharpeville (funded by Eskom).
Development of pest management strategies for the Fall Armyworm (funded by the Maize Trust).
 Environmental risk assessment of nanomaterials (funded by the National Health Laboratory Services).
The transport and fate of antimicrobial residues, microbial contaminants of emerging concern (funded by the NRF).
More about the UESM
The aim of the unit is to generate research that safeguards nature while promoting the social and economic development of South Africa's people.
Located in Potchefstroom, the unit supports the optimal utilisation of natural resources within the limitations of ecosystem resilience. To ensure long-term relevance, the UESM seeks a balance between fundamental and applied, market-oriented research.
Currently our research is conducted in eight subprogrammes: Climate Change, Air Quality and Impacts; Aquatic Ecosystem Health; Biodiversity and Conservation Ecology; Ecological Interactions and Ecosystem Resilience; Environmental Management; Integrated Pest Management; Geology Soil Science, and Spatial Planning and Implementation.
---
Marine biology at the NWU: the Tsitsikamma National Park Marine Living Lab
Undergraduate and postgraduate students from the North-West University's (NWU's) School of Biological Sciences recently undertook the annual Estuarine and Nearshore Marine Ecology Living Lab excursion. This year saw participants visit the Tsitsikamma National Park.
The excursion was presented by several academic staff members of the School of Biological Sciences: Prof Victor Wepener, Prof Nico Smit and Dr Wynand Malherbe. Students from the NWU were joined by their national peers from the University of Johannesburg as well as international students and experts from the University of Hong Kong and Arkansas State University.
During the six-day excursion the students engaged each other in different aspects of intertidal marine and estuarine ecology – under the guidance of the academics from the four participating universities.
The living lab initiative is not only about learning from international marine experts but also about interacting with students from different backgrounds and cultures. This unique marine living lab remains one of the flagship courses in the BScHons programme in environmental sciences.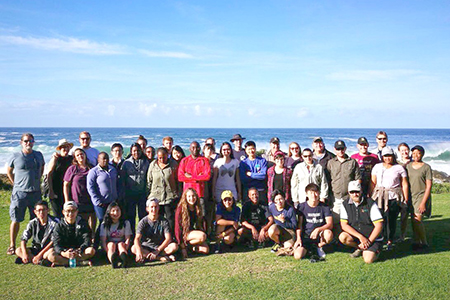 Tsitsikamma Marine Living Lab Class of 2018
---