The members of our group form part of Metabolomics South Africa, actively engage in workshops, conferences and community engagement projects and as a result are recognised for their contributions both locally and internationally. Some of the links and or pictures are exemplary of some of the activities/events which they partake in. Also shown are pictures to annual social events.
Annual and Social Events
Dr Aurelia Williams: Young South Africans
Human Metabolomics Webinar by Dr Shayne Mason
Fellow of Department of Higher Education and Training's Future Professor Programme 2021
Dr Aurelia Alvina Williams, Senior Lecturer at the Biochemistry Department of the North-West University, Potchefstroom Campus, is among 29 South African academics who have been selected to participate in the Future Professors Programme (FPP) Phase 2 Cohort 1, funded by the Department of Higher Education Training (DHET). This competitive and prestigious programme of DHET is a national, collaborative initiative, aimed at developing the academic, leadership, research, teaching and learning, and community engagement skills of future South African professoriate. Universities are invited to nominate five eligible scholars for selection to the two-year fellowship. A total of a hundred and fourteen (114) applications were received from twenty-six (26) universities. Twenty-nine applicants were selected of which Dr Aurelia Alvina Williams was one of the successful candidates. The programme intends to support participants and provide them with resources needed to navigate the expectations and requirements of the professoriate.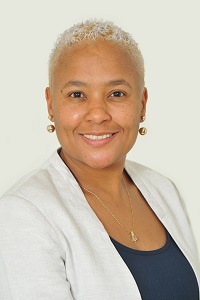 NWU's Open Educational Resource (OER) Fellowship 2021
Dr Aurelia Alvina Williams was awarded the NWU's OER Fellowship. The fellowship was announced 31 May 2021 (click here to view). 
Her team includes: Chandré Liebenberg, Mario Chauque and Byron Bunt. The fellowship is to promote the creation and use of original open educational resources. The fellowship runs for 18 months, involves a financial grant, R40 000 for the development of these resources and R7 000 for online conference attendance and presentations. Fellows will have the opportunity to attend several workshops by experts on open educational resources and open pedagogy and will receive mentoring from experts. The resources created will be shared online through an open licence when the programme ends. Aurelia and team will develop an OER educating individuals on some of the basics regarding infectious diseases. The process, research, and development of the OER will be written up in a book chapter for publication 2022/2023.
Workshops held
MSA's Liquid Chromatography and Nuclear Magnetic Resonance Spectroscopy workshops
NWU academic says back to basics for TB programmes
Deaths from Tuberculosis (TB) have increased globally for the first time in over a decade. This is according to the World Health Organisation's Global TB Report that was released in October 2021. The increase in deaths is due to "reduced access to TB diagnosis and treatment in the face of the Covid-19 pandemic", the report found.
The situation is no different in South Africa. In December, Health Minister Joe Phaahla confirmed that Covid-19 had side-lined the fight against TB, as well as HIV and Aids. 
North-West University (NWU) academic in the subject group Biochemistry, Dr Aurelia Williams, says prior to Covid-19 South Africa was doing well in terms of getting TB-related messages out to the public.
"In fact, the global plan to reduce TB incidence and mortality by 80 and 90% respectively – as per the 2020 'End TB Strategy' – was in sight. Unfortunately, Covid-19 set this progress back by years."
She says public awareness of TB needs to be renewed to get the TB programme going again.
"It is important to identify and address the key factors which led to the lapse of TB programmes.
"During the height of the Covid-19 pandemic, stigma and fear fuelled misinformation which led to a distrust in the healthcare system. Rebuilding trust in the health care systems and a multidisciplinary approach aimed at TB disease diagnosis, prevention, treatment, and monitoring should be implemented with evidenced-based approaches, epidemiologic modelling, and socio-economic standing considered," adds Dr Williams.
She says this multidisciplinary approach should include all relevant stakeholders and role players, for instance healthcare practitioners, government, the private sector, media, influencers and community workers.
"Platforms should include active on-site campaigning as before, the effective use of digital platforms, using various testing technologies to monitor treatment response and/or adherence, and making hotlines freely accessible and integrated with applications such as WhatsApp."
 "When campaigning, emphasis should be placed on consistent messaging. "At the centre of the multidisciplinary approach should be health literacy and the identification of health misinformation and its effects, to create awareness and empower individuals to make informed behavioural and healthcare decisions. Health literacy programmes should also be included in school and university curricula," she adds.
"There should be outreach to local communities, and community and health care workers should communicate clearly and in a culturally relevant context. This will ensure that individuals are well informed, and that future pandemics do not keep them from accessing basic health services.
Such programmes require funding which – if placed in the hands of ethical, credible, and well-informed individuals and organisations – should enable sustainable TB healthcare," concludes Dr Williams.