Research Excellence Award granted to WRG PhD candidate
The annual NRF Awards recognise and celebrate South African research excellence. This year, the ceremony took place on 26th September in Port Elizabeth. The awards presented to researchers are in two categories, the ratings linked awards and special recognition awards. The special recognition awards provide a platform to honour researchers for career achievements and contributions to knowledge creation and dissemination, as well as capacity development and transformation. In this category, PhD candidate Edward Charles Netherlands was granted with the Research Excellence Award for Next Generation Researchers.
Click herer for a full report on the Awards
Click here to read the NWU news report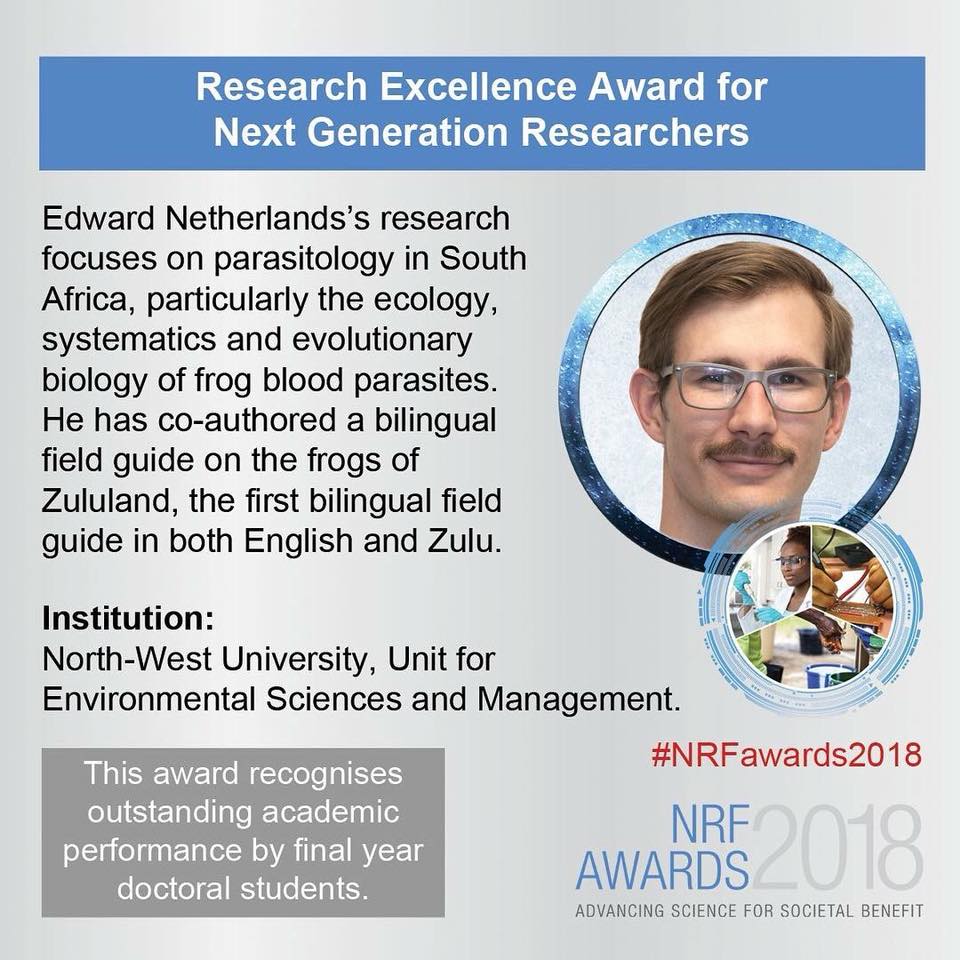 Short course in aquatic ectothermic vertebrates handling and ethics hosted at NWU
In the last week of August, the WRG promoted the Short course in aquatic ectothermic vertebrates handling and ethics at the National Aquatic Bioassay Facility in the Potchefstroom campus of NWU. It included a total of 12 participants from different fields of Biology, including researchers from NWU, from Limpopo and the industry.
Click here for a full report on the events

WRG Parasitologists attended 14th ICOPA 2018
NWU sent eight parasitologists to South Korea to attend the 14th International Congress of Parasitology (ICOPA). The conference took place from 19th to 24th August at the EXCO Convention Center, in Daegu, and brought together over 2,000 delegates. Participants shared information in the areas of parasitology under the central theme "Parasites: harms and benefits", including discussions on the possible scientific use of parasites. It counted on 16 plenary sessions, a symposium, oral and poster presentations, satellite meetings, and workshops.
Click here for a full report on the events

WRG Represented at IsoEcol 2018
Dr. Rachel Welicky, one of WRG post-doc fellows, represented our group at IsoEcol 2018 (11th International Conference on the Applications of Stable Isotope Techniques to Ecological Studies), hosted by Universidad de Andrés Bello in Viña Del Mar, Chile. The conference was the first one to be held in South America and took place from 30th July to 3rd August, with 275 scientists from 37 countries. It was a full house, two weeks before the conference no more registrations were accepted!
Click here for a full report on the events

Archive
(Click on each topic to read the full article)