The Statistical Consultation Services of the Potchefstroom Campus of North-West University (SCS) has been in existence since 1980.  SCS provides assistance to:
North-West University post graduate students and personnel.

Other universities' post graduate students and personnel.

 Any private sector clients (persons and institutions not affiliated with any university). 
SCS renders the following services:
Assistance with the planning of research projects.  This may include statistical planning of clinical trials and surveys by means of experimental and random sampling designs.

The review and sign-off of ethics applications.

Questionnaire review in terms of face validity.

Guidance with regards to data collection.

Statistical analysis and data mining by means of suitable computer packages, including SPSS and STATISTICA.

Assistance with the interpretation of processed results.

Assistance with regards to publications.

Review of the final report or article.
Note: SCS recommends that clients should consult with SCS during planning stages of a research project, and not only after data are collected. Also, if it is a student project, then the supervisor / promoter must accompany the student during the first consultation.
Several accredited short courses in Statistics are also available. Short courses consist of both a theoretical and a practical component. The practical component is performed in statistical computer software packages such as STATISTICA, SPSS and R.
Short courses can also be tailor-made for companies to satisfy their individual training needs in terms of content, statistical analysis software, course length etc.  These could also be presented in-house if more than fifteen delegates attend.
---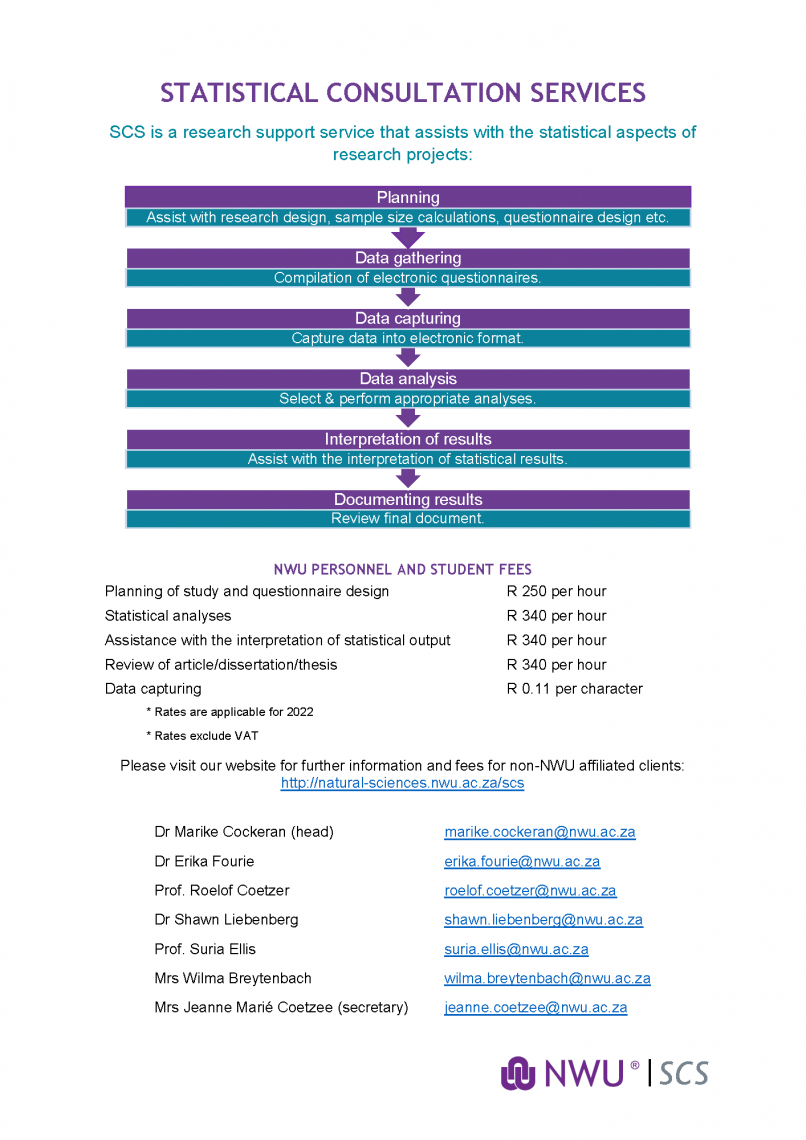 ---