​
Sub-programme leader: Prof Jacques Berner (Jacques.Berner@nwu.ac.za)
Current vacancy: Post-Doctoral Research Fellow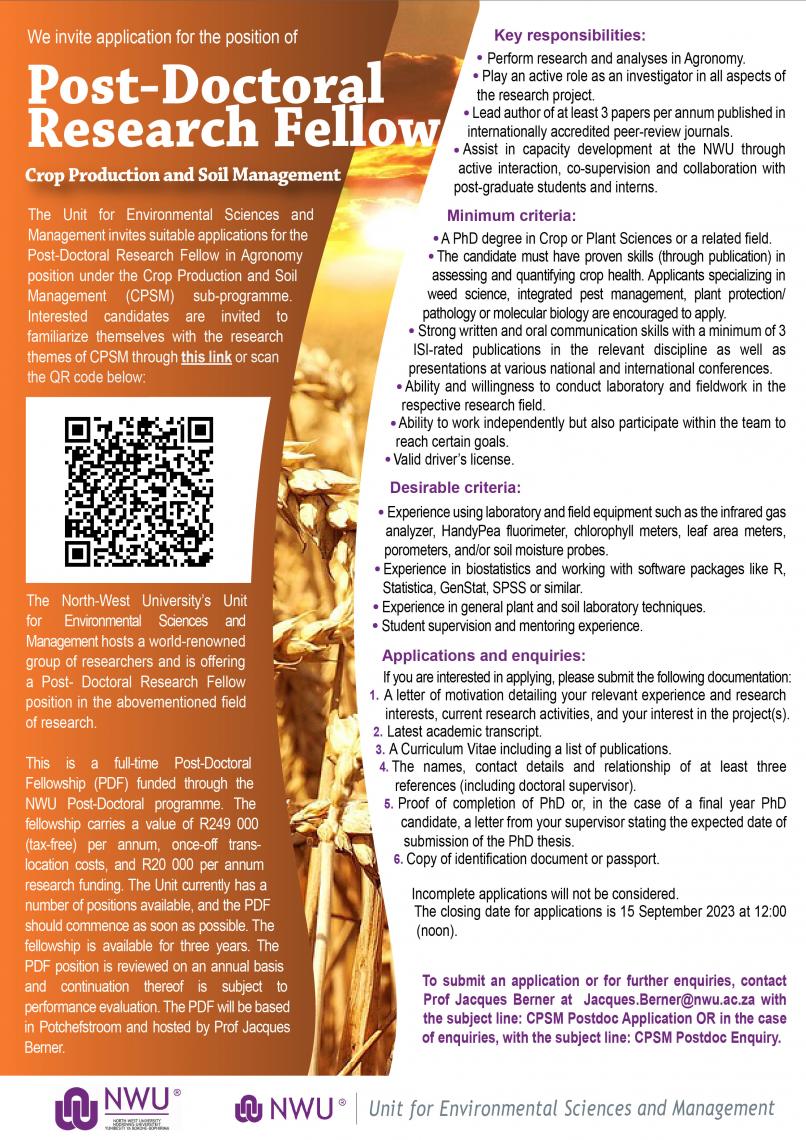 Overview
The Crop Production & Soil Management sub-programme focuses on the sustainable production of crops in a changing world. We do this by harnessing expertise in plant biology, soil science, crop protection, sustainable crop management, automation and precision agriculture to provide sustainable solutions for the food, feed and fiber industries. Achieving increased and sustainable crop production in the 21st century depends on implementing technology and innovations across all production systems, thereby increasing productivity amid rising operational costs.
Vision
To become a center of academic activities with international standards in crop production, impacting the North West farming community by improving rural livelihoods and sustainable food systems.
Mission
To promote sustainable agricultural practices by strengthening productivity and markets while protecting the environment in the North-West Province.
Research Themes
Cropping Systems Agronomy
Focuses on sustainable intensification of open-field crop production through optimization of agronomic practices and cropping patterns. The emphasis is on ensuring essential ecosystem services and efficiency in crop production systems. The research group features work on conservation agriculture, regenerative agriculture, tillage systems, residue management, crop-livestock systems, soil health, crop variety evaluations, fertilization and plant populations.
Plant-Microbe-Soil Interaction 
Soil microbes, including arbuscular mycorrhizal fungi and other rootzone plant growth-promoting microbes, influence the soil's physical properties. The influence is direct and indirect. Direct through holding soil particles together and indirectly through their exudated by-product. The influenced soil physical properties mainly alter the soil water characteristics, which then balances soil life, soil nutrient availability, root thriving kinetics, and above-ground productivity bounty. In balancing, the influence on soil nutrients positively impacts environmental protection and sustainability, a characteristic that should never be forgotten. 
The Crop Biodiversity Research Group focuses on the agronomic production of food crops and underutilized plants to develop resilient food systems. It does this by optimizing cultivation practices for established crops and developing ex situ cultivation protocols for unpopular plants. The work is based on the premise that the world's reliance on the three main crops, maize, wheat and rice, leaves agriculture vulnerable to biotic and abiotic stressors that can hamper crop production and food security. The development of a diverse agricultural system can alleviate this threat. Potatoes and selected underutilized crops have been identified to be key to creating such a system due to high yields and drought/disease tolerance. In addition, some cultivars and species are characterized by a hardy genetic makeup that allows adaptation to a wide range of ecological niches. This necessitates applying innovative approaches to study the physiological performance of such crops under current and future scenarios, which is central to the research conducted in the group.
Soil Fertility and Nutrient Cycling
Soil fertility and nutrient cycling focus on the nutrient dynamics in soils to optimize the nutrient use efficiency in field and vegetable crops. The goal is to develop efficient nutrient management strategies that encourage the sustainable use and cycling of nutrients.
Crop Physiology and Biochemistry
The Crop Physiology & Biochemistry research group aims to improve crop productivity and quality by understanding how crops sense and respond to biotic and abiotic stress, probing the diversity of plant-specialized metabolism, and understanding the fundamental mechanisms of growth and development. From such studies, it becomes possible to identify alternative crops that can successfully adapt to shifting climate patterns. Introducing climate-resilient crops will broaden South Africa's production base and provide much-needed food and nutrient security. Plant exposure to environmental stress induces numerous physiological reactions, which are often traceable in terms of the physiological composition of specific plant types. Among the critical physiological changes are alterations in photosynthesis, and for this reason, photosynthesis is viewed as a universal tool for plant health assessment.
Soil Ecology and Sustainable Food Systems
Soil ecology delves into the intricate interactions between soil organisms, encompassing everything from microscopic nematodes to burrowing earthworms. These organisms play pivotal roles in nutrient cycling, pest suppression, and soil structure maintenance, thereby influencing plant health and productivity. Sustainable agriculture seeks to harness the power of these natural processes to cultivate crops with minimal environmental impact. By studying and optimizing the balance of soil-dwelling organisms, sustainable agriculture aims to produce food more efficiently and responsibly. In this realm, research such as ours investigates how specific farming practices impact the soil's ecological health, striving for a harmonious coexistence of agriculture with nature.
Skill set of current members in the group
Prof Jacques Berner: Crop Physiology & Biochemistry
Prof Nomali Ngobese: Crop Physiology & Agronomy
Dr Lindah Muzangwa: Agronomy & Cropping Systems
Mr. Tshepiso Seobi: Soil Biophysics
Dr Dimakatso Ramphisa: Soil Fertility & Nutrient Cycling
Desired skills / expertise
Agro-engineering
Agro-processing
Crop production
Irrigation scheduling
Pest management
Plant breeding
Plant pathology
Plant physiology
Precision farming
Soil sciences
Weed management
Expertise that are welcomed for collaboration
The sub-programme welcomes any expertise that will further crop production and development in the North West Province. Collaboration with scientists and institutions to use smart farming technology to advance crop production and agro-processing is encouraged.
Specific facilities, infrastructure and equipment
Light and temperature-controlled greenhouses
Growth chambers
Shaded tunnels
Functional and fully equipped farm
 
Last updated: 20 April 2023