Message from the Director:
Professor Carlos Bezuidenhout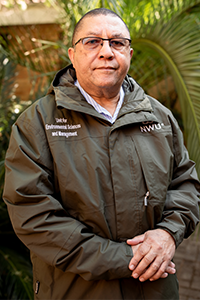 Welcome to the webpage of the Unit for Environmental Sciences and Management (UESM). This is a very dynamic research entity and research programmes are inter-, multi- and trans-disciplinary. The overarching aim of these programmes is to develop expertise with the goal to provide a comprehensive understanding of the complex environment in which we live. The vision of the unit is to be a nationally and internationally recognised Scientific Research Entity in Environmental Sciences and Management in Africa. The mission of the unit is to conduct leading research in Africa through provision of science-based knowledge to address global environmental change. This is achieved through excellent research, high quality postgraduate education and providing specialist services. Academic staff within the UESM are committed to this aim. Technical and administrative staff members are very supportive. There are more than 80 primary, 26 secondary and 80 temporary participants in UESM. Participants are a good mix of senior and emerging researchers. More than 40% of staff are established researchers that are nationally and internationally recognised. There are 6 permanent members with NRF B-rating (internationally acclaimed researchers). In the UESM there are also a number of promising young researchers as evaluated by peers. More than 26 highly productive PostDoctoral fellows (secondary participants) actively participate in research activities and publications. 
The UESM endeavours to support the optimal utilisation of natural resources within the limitations of the resilience of ecosystems. It is a value-driven research entity that strives to be internationally recognised while simultaneously contributing to local and regional understanding of our environment and best practices in the management of the environment. The UESM also strives for balance between fundamental academic - and applied market-orientated research as well as contract work.
Currently our research is conducted in the following sub-programmes (SPs):
(View UESM Structure video here)
Colleagues from these sub-programmes work across subject disciplines to address challenges we are facing as a country, a continent and globally. We investigate how the climate on earth has changed over time and predicting how current events may impact these changes.
In 2020 we revived the official journal of the UESM called ENVIRA. The journal contains many of the highlights and achievements as well as various accolades of colleagues and students. There are 4 editions annually and these really give an overview of research activities, symposia, workshops, community engagement projects etc. All these editions are illustrated with colourful photos and illustrations and insightful stories.
The members of the UESM are actively participating in multi-institutional and multi-lateral international research. The institutions include Government Departments, Research institutes and universities from across the globe. The funders included but are not limited to: National Research Foundation (Thrip, Competitive Research grants, Thuthuka, Bilateral International Collaboration funding), African Union, World Bank, Council for Scientific Research (CSIR), Water Research Commission, various mining companies, SASOL, Maize Trust, ESKOM, Department of Environmental Affairs, various national and international Agricultural Companies, Norwegian Research Council, International Atomic Energy Agency, British Research Council, SASSCAL, German Ministry of Education, NASA to name a few.
For more details on members, activities, highlights, accolades etc., please explore the webpages of the various sub-programmes and research groups.
Last updated: June 2023