LATEST NEWS
Articles:
Subject group Microbiology at South African Society of Microbiology Conference, April 2018
Twenty-four representatives of the Microbiology subject group recently attended the conference of the South African Society of Microbiology (SASM) held in Muldersdrift, Johannesburg from 4-7 April. The conference focused on the contributions of young scientists in South Africa and the work presented by the group was a showcase of the diversity and quality of research performed by staff and students at the NWU.
Prof Carlos Bezuidenhout delivered a keynote presentation entitled "Geospatial analysis, microbial community structure and antimicrobial resistance analysis: Implications for water quality management". Collectively, students from Potchefstroom and Mahikeng campuses contributed 17 posters and 5 presentations in various sessions, including Industry, Environment and Omics and Ilzé Horak was awarded the second prize in the category Best MSc Oral Presentation. 
The students considered the conference a great learning experience and made the most of their time to start building networks and find potential future opportunities. Here are some of their comments:
The SASM 2018 conference was well planned, informative and catered for the appropriate audience. The sessions were sectioned in such a way that a person may listen to talks in their respective fields and still gain insight into other disciplines within Microbiology. All in all, the conference was a fantastic opportunity to achieve new insights to our respective disciplines and to cement new relationships and networks with global experts in their fields. Roelof Coertze
This conference exposed me to the current move in microbiological research.  The speakers (posters included) that presented at the conference awakened a fresh zeal and directive on my project. The information that was given on predatory journals were insightful and due diligence should be used by authors to avoid these pseudo-journals. Lee Chenhaka
This conference was a great opportunity to interact and talk with other students and scientists from different institutes and organisations about future collaboration. The main take home message I took from this conference was that we as microbiologists and post-graduate researchers at the NWU don't have to stand back in our fields of research. Rohan Fourie
The SASM conference was a wonderful opportunity to expose young researchers to the microbiology community of South Africa. Not only did we get to share our research, but also to see what other young microbiologists are doing. The conference provided a great opportunity for us as NWU representatives to showcase our abilities and to show the other attendees that we are doing research of high standards.  Gerhard Engelbrecht
As a first time attendee of the SASM conference, I had the opportunity to not only present my research, but also to meet other microbiology postgraduate students and researchers from different universities. It was a wonderful experience and I greatly appreciate the opportunity I was given. And also, the food was really amazing! Ilzé Horak
North-West University makes waves at the recent Annual Conference of the Southern African Society for Aquatic Sciences.
Thirty academics, postdocs and postgraduate students from the Unit for Environmental Sciences and Management participated in the 55th Annual Conference of Southern African Society for Aquatic Scientists (SASAqS) conference that was held at Cape St Francis from 24-27 June 2018.  Prof Nico Smit delivered a keynote presentation on aquatic parasitology in a changing world: diversity, emerging diseases and climate change. Prof Victor Wepener and post-doctoral fellow, Tarryn Botha delivered plenary presentations on multi-species approaches to relate organochlorine exposure to biological effects and status of nano-ecotoxicology in South Africa, respectively. During the conference Prof Victor Wepener was elected as President of the Society and takes over from Prof Nico Smit the previous president. Dr Wynand Malherbe was re-elected as honorary secretary.
Edward Charles Netherlands presented some amazing work from his PhD - the elucidation of the complete life cycle of a unique round worm (nematode) that has blood stages (microfilaria) and is transmitted by mosquitoes from one frog to another. This worm is not only a new species but potentially a whole new genus! For the quality of his research and presentation Ed won the price for the best PhD student presentation at the conference.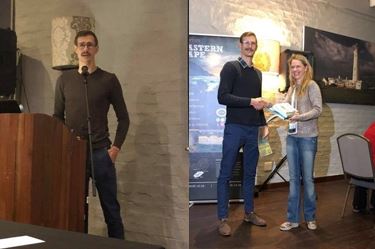 North-West University Honours student Anja Vermaak won the award for the best student poster.  What made this even more special is that Anja was competing against Masters and PhD students for this award.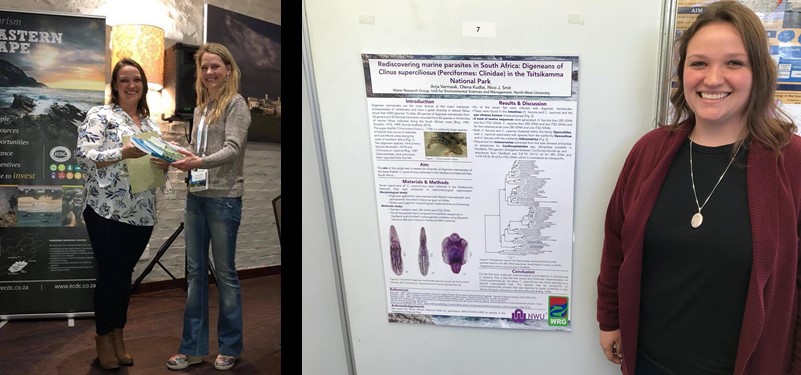 Botany's Prof Klaus Kelner serves on Biodiversity Scenarios and Ecosystem Services panel of experts
Prof Klaus Kelner serves as expert scientists on a number of international panels and organizations.
Prof Klaus Kelner of Botany was invited by BiodivScen (Belmont Forum/BiodivERsA) to act as a member of the Panel of Experts of its 2017-2018 joint call on "Biodiversity Scenarios and Ecosystem Services".  The PoE will be chaired by by Prof. Katherine Willis (Director of Science at Royal Botanic Gardens Kew and Professor of Biodiversity at University of Oxford, UK) and co-chaired by Dr Simon Gardner (Head of Innovation Programmes at Natural Environment Research Council (NERC), UK).  The PoE is comprised of 25-30 experts in scientific and policy/management aspects related to biodiversity and ecosystem services and must evaluate 130 proposals. Together with the European Commission, an overall budget of ca. €25M has been provisionally reserved for this call.
BiodivERsA is a network of 35 agencies and ministries from 23 European countries programming and funding pan-European research on biodiversity and ecosystem services on a competitive basis. It is an ERA-NET Co-fund, funded under the EU's Horizon 2020 Framework Programme for Research and Innovation."
Prof Carlos Bezuidenhout from Microbiology hosts the SA/Germany Joint S&T Cooperation: WATNET Stakeholders' Workshop
South Africa and Germany have had a long standing bilateral partnership in science and technology aimed at promoting and supporting joint research projects in different themes that have been identified as strategic between the two countries. For the 2016 bilateral call 12 joint research were approved and funded for a 4-year period (2017 – 2020) in the broad thematic area of Bio-economy and Resource Management. The aim of the 2016 call was not only to support joint research projects but to also contribute to human capacity development by supporting short-term placements of selected number doctoral students in each joint project.

The partners within the WATNET project (one of the 12 funded joint projects) led by Prof Carlos Bezuidenhout of North-West University in South Africa and his German partner Prof Jörg Longdong from the Bauhaus‐Universität Weimar jointly hosted a success stakeholder workshop in Potchefstroom, South Africa, on 1 February 2018. The WATNET project is an interdisciplinary, bilateral networking project on urban water resource management between the North-West University, Potchefstroom Campus and the Bauhaus Universität Weimar, Germany. Participants at this workshop included South African and German researchers in the fields of water and waste management and urban planning, students from North-West University, officials from the South African Water Research Commission; JB Marks local municipality and the National Research Foundation.
Participants during the SA/Germany Joint S&T Cooperation: WATNET Stakeholders' Workshop