Message from the Director: Prof Victor Wepener
I am pleased to welcome you to the School for Biological Sciences. Our vision is to provide relevant value driven training and research of international standard, focussed on proven expertness within the environmental sciences. We also offer a unique BSc degree in Tourism where subject specific disciplines of Botany, Zoology and Geography are combined with Tourism.  The structuring of the School consists of basic biological subject groups such as Zoology, Microbiology and Botany. The academics in these three subject groups are highly skilled and all possess PhDs and 60% are National Research Foundation rated scientists.  Our four different honours programmes provide students with a unique suite of disciplines to form the basis for comprehensive multidisciplinary training and research to equip students in becoming well rounded environmental scientists.
Research projects are done in ecological remediation and sustainable development, biodiversity and conservation ecology, water sciences and integrated pest management. All four curricula have an underpinning in environmental management, making our graduates sought after in the job-market. All post graduate research in carried out in the Research Unit for Environmental Sciences and Management
Environmental scientists are active as fundamental biologists and academics, researchers, nature conservationists, grassland managers, environmental managers, environmental consultants, impact assessors and the tourism industry.
Prof. Victor Wepener
Director: School of Biological Sciences
---
News within the School for Biological Sciences
NWU performs at PRASA 2016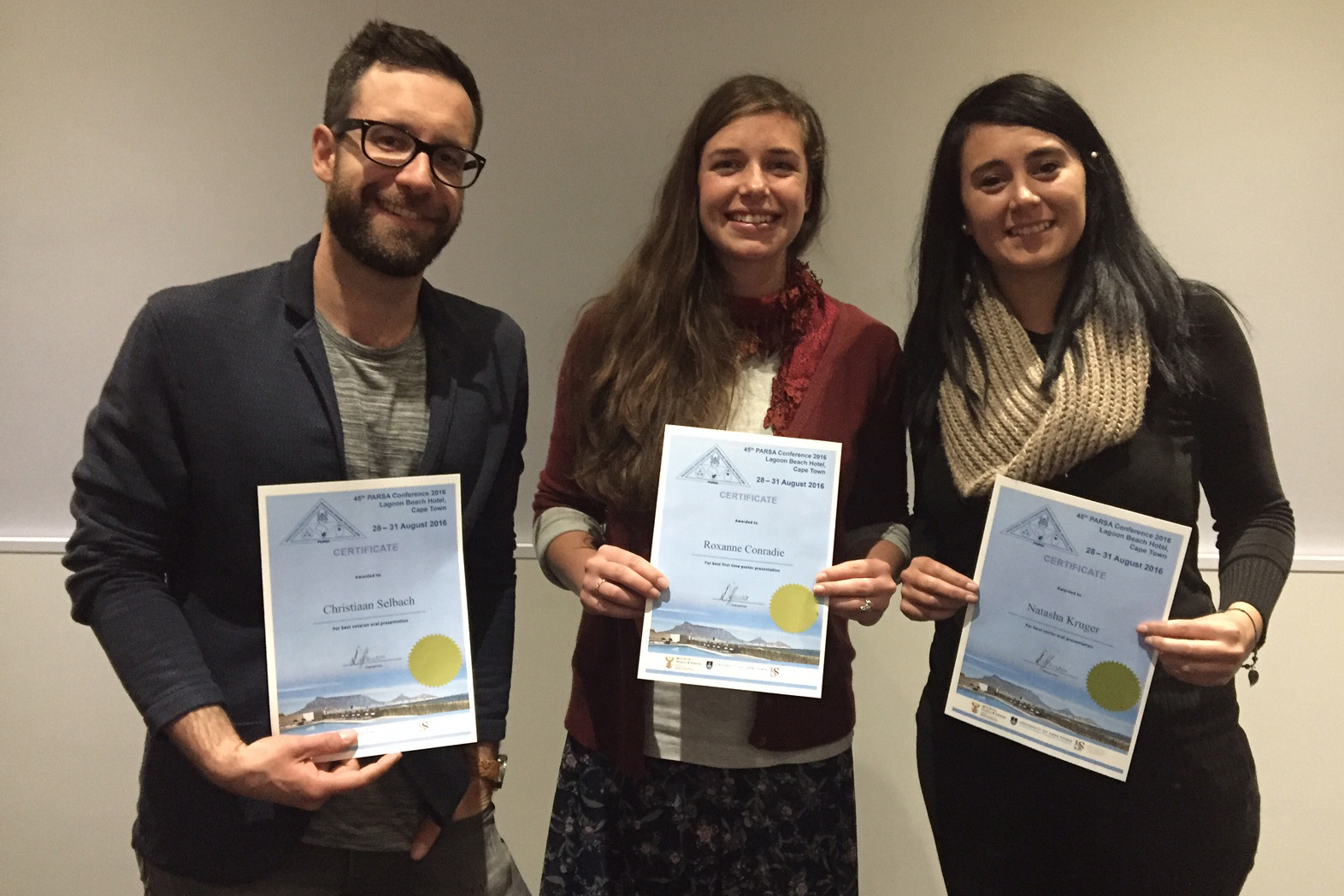 Christian Selbach           Roxanne Conradie            Natasha Kruger
The annual symposium of the Parasitological Association of Southern Africa (PARSA) symposium took place 28-31 Aug in Cape Town. The symposium was attended by 101 delegates. From North-West University a group of 14 including two lecturers, five post-docs, two doctoral students and five masters students attended. Our students did very well and took three of the five prizes namely: Best First Time Poster - Roxanne Conradie; Best Senior Oral presentation – Natasha Kruger; and Best Veteran Oral Presenter – Chris Selbach. The topics of their presentations were:
Roxanne Conradie. Ultrastructural comparison of Hepatozoon ixoxo and Hepatozoon theileri (Adeleorina: Hepatozoidae), parasitising South African amphibians
Natasha Kruger. Parasite introduction to the endangered Western Leopard Toad: Spill over or spill back?
Christian Selbach. Tarebia granifera: A successful invader free of parasite burdens and its implications for trematode transmission in the Lower Phongolo River and floodplain.